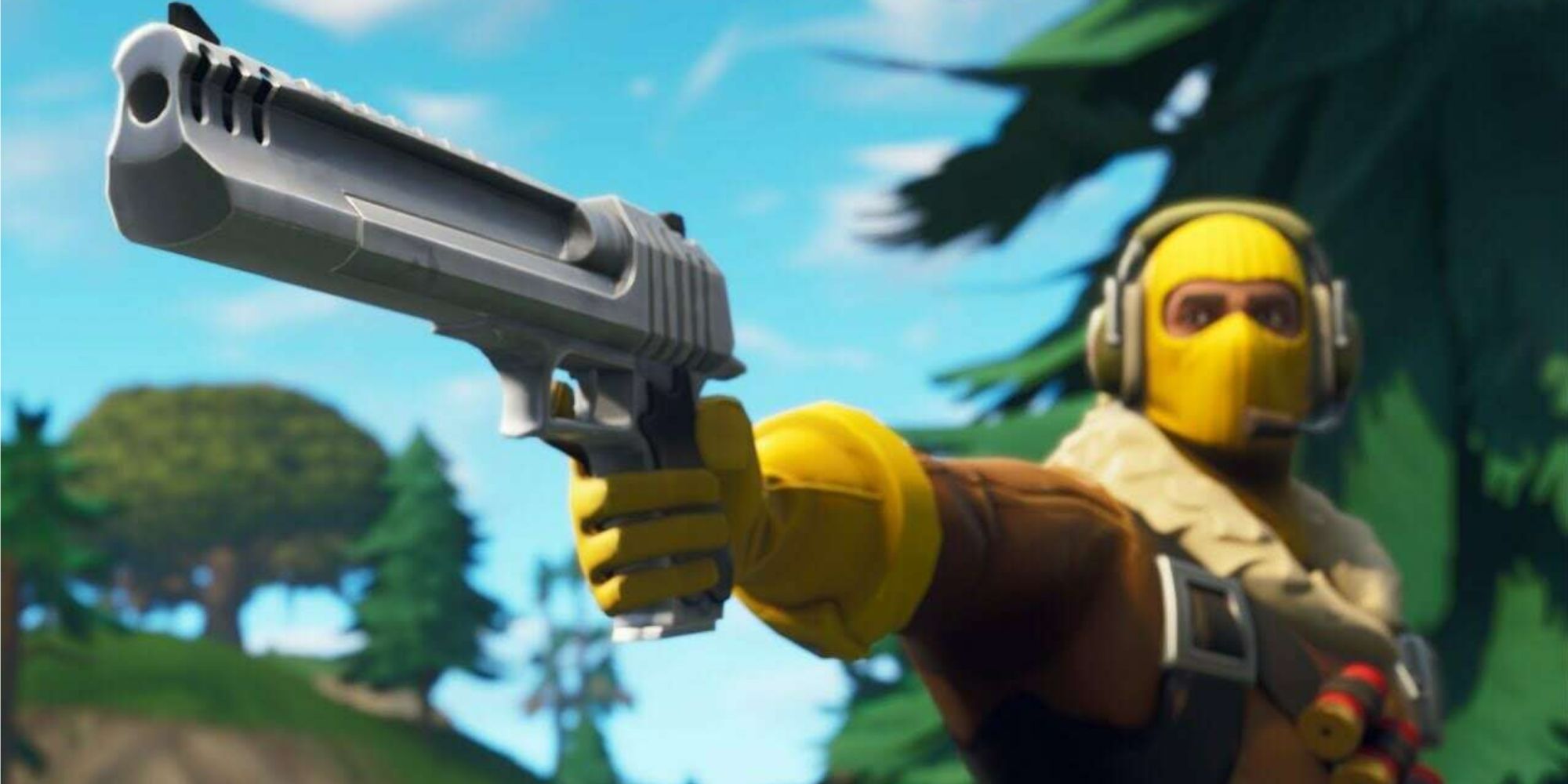 If you've been playing Fortnite for as long as I have, you might remember, long before it became a battle royale juggernaut, aim assist and various tweaks were a hotly debated topic. While that debate has been left in the past, a similar one could come up next week when Lock On Pistol is added to the game. An all-new weapon that does exactly what its name suggests.
The Lock On Pistol appears to have existed in the Fortnite archives for a while. However, as revealed by Hypex and several other Fortnite data miners this week, those files have been updated to give the new weapon an official name, description, and even a date when it will arrive. "Specialized pistol that aims and tracks a target. Exceptionally useful during high-speed chases."
RELATED: Fortnite's Unreal Editor Tools Will Change Video Games Forever
As for when the Lock On Pistol will be discovered on the island, the new weapon should be added via the April 18th update. Images of the pistol in action have already hit social media and you can check them out below. As you can see, it won't be as simple as crosshairs looking for an enemy and snapping into place. There is an element of work to this, and also a 0.4 second delay between aiming and locking.
That amount of time is indicated by four quadrants that will need to change from white to purple before you can fire with much improved accuracy. You can only fire a few shots at a time before a 0.5 second delay between those shots and being able to lock again. Each shot landed will deal 20 damage, meaning that even if every bullet hits, it will take a few tries to take down an enemy if they have full health and shields.
Odds are there will be some people who love the Lock On Pistol idea, and probably just as many who don't. It certainly won't be the first weapon in Fortnite history that divides the player base. Shockwave Hammer did the same thing, going back and forth throughout last season due to various issues before finally being vaulted for good as the season came to a close. An item with a brand new mechanic like the Lock On Pistol almost definitely means it's going to have some issues right off the bat.
NEXT: Back then a guy brought a Frostmourne replica in Pawn Stars